Article 26 (social security)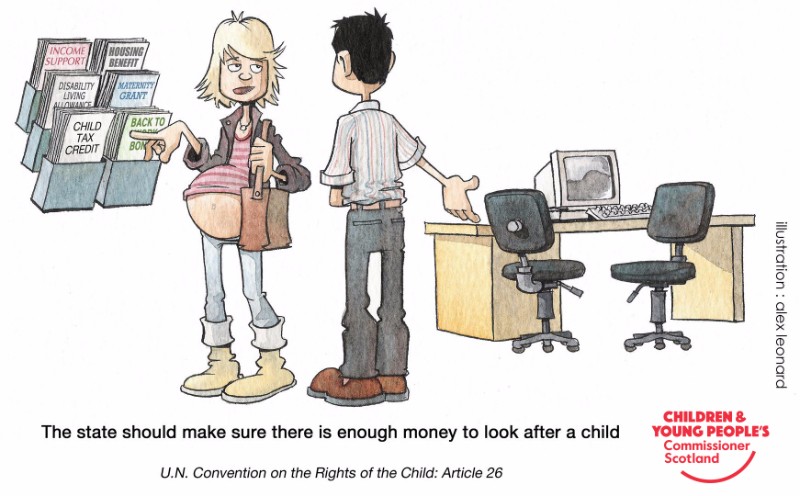 Every child has the right to benefit from social security. Governments must provide social security, including financial support and other benefits, to families in need of assistance.
Children and young people should get financial support from the State when their parents or guardians are unable to provide them with a good enough standard of living by themselves (https://www.cypcs.org.uk/rights/uncrcarticles/article-26).
At a school level we are working towards achieving the Sustainable Development Goals linked to this right (SDG 1: No Poverty, SDG2: Zero Hunger and SDG4: Quality Education) because lack of resources and hunger can be a barrier to learning for some of our pupils. Bridge of Don Academy tries to help in many ways. These include:
the Breakfast Club which happens every morning at 8am in GP2,
financial support if your family are struggling to pay for practical classes or school trips,
equipment provided in classrooms,
the 'Comfort Closets' and
the new 'Learning Boxes'.
Film 'Your Right to Social Security in Scotland' https://www.youtube.com/watch?v=ChPfGgNr6n4
Information about benefits and grants https://www.mygov.scot/benefits/
Social Security information on Scottish Human Rights Commission website http://www.scottishhumanrights.com/economic-social-cultural-rights/social-security/
BoDA Comfort Closets https://bridgeofdon.aberdeen.sch.uk/wp/?p=6153
BoDA Breakfast Club https://bridgeofdon.aberdeen.sch.uk/wp/?p=6219