Who are you?: Amy Strachan, Modern Studies and History teacher at Bridge of Don Academy. I believe Fair Trade is a great way for us to try and respect the rights of workers all over the world.
What is your Fairtrade item?: Co-op Fairtrade Tea Bags.
Why?: I love tea, especially when it's freezing with all the windows open! Great for warming me up and if it comes from an ethnical source, that's even better.
The tea bags are available in both normal and decaffeinated versions.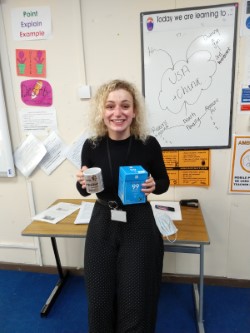 "Not all tea is created equal. Behind your brew, real people face low wages, discrimination and the hard choices living in poverty can bring. The people who grow and pick our tea often don't earn enough to even feed their families.
But when you buy Fairtrade tea, farmers and workers can bring greater security, equality and opportunity to the lives of their families and communities." https://www.fairtrade.org.uk/buying-fairtrade/tea/
To meet some of these tea farmers and workers click https://www.fairtrade.org.uk/farmers-and-workers/tea/