Bridge of Don Academy offers several opportunities for P7 pupils to experience what learning is like at Bridge of Don Academy, ahead of joining in S1:
English and Maths departments visiting primary schools to deliver lessons, with BoDA pupils supporting P7 pupils.
Active Boys and Active Girls Day – a one day event where BoDA's S1 pupils join the P7 pupils for a day of fun, energetic activities, led by the PE department, Sport Aberdeen and BoDA pupils.
BoDA Summer fayre – a one day event where all pupils at BoDA and the P7 pupils participate in competitive and non-competitive activities, whilst getting the chance to sample locally produced food such as pizza, BBQ and ice cream.
S1 pupils visiting their former primary school to host a Q&A session for P7 pupils.
Four days of P7s attending BoDA, following a timetable which reflects what they will be learning in S1.
Enhanced Transition, where the Pupil Support Department facilitate additional visits and support for pupils with Additional Support Needs (ASN).
P7 Parents information evening, where parents can experience S1 lessons in addition to being able to ask questions to subject teachers and senior management.
In addition, we have recently created a 'Virtual Interactive Map' which allows pupils to explore the school building and meet the teachers that work in each department. Click the image below to start exploring. *Some media may only be accessible if you are logged into your @ab-ed.org Google account.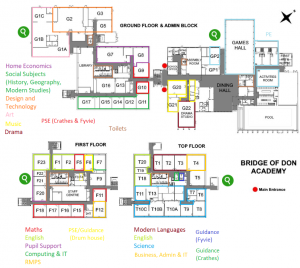 *Up-to-date for June 2021*
We have also created several videos to provide sensory predictability for a variety of experiences, such as fire drills, moving between classes, toilets and the canteen: https://www.youtube.com/channel/UCxpwY6mIMLU1q1IBj4vSx0w