Pupils, Cameron Shewan and Jack Gillies represented the school in the Crown Office and Procurator Fiscal Service public speaking competition.  There were four teams of two from Aberdeen Grammar School, Bucksburn Academy, Bridge of Don Academy and Dyce Academy.  The first round was here at Bridge of Don on 27 February and the boys along with the team from Aberdeen Grammar School went through to the final held at the Town House on Monday 24 March.  They can be seen in the photo collage below, along with the others teams,  with Amber Thomson who was reserve speaker and did the vote of thanks at the end of the night.
At the final held on 24 March in the Town House the boys were narrowly defeated by the team from Aberdeen Grammar school in what the judges summa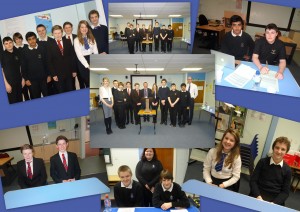 rised as a very close final.  The boys are pictured with the Aberdeen Grammar School team and the judge at the Town House below.