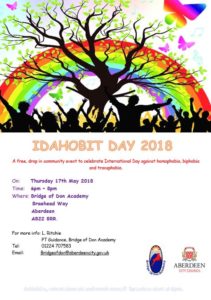 Bridge of Don Academy's LGBT+ group are hosting this year's City wide International Day Against Homophobia, Biphobia and Transphobia 2018 event.
The event is on the evening of Thursday 17 May 2018 from 6pm – 8pm and is open to all year groups (and families). Further details are on our poster which can be downloaded by clicking on the image in this post.
If you have any questions please do not hesitate to get in touch.