The following documents were issued to all S4, S5 and S6 pupils at a recent assembly and can be downloaded via the links in bold below.
Your Exams 2017
MIS Candidate Details
GTRBTOE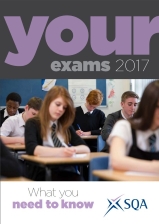 The Your Exams 2017 booklet contains several pages of advice about preparing for exams, procedures on the day, conduct in the exam room, writing answers to the exam questions, marking and the SQA's Results Service.
The back page has a 'cut out and keep' SCN Card which can be brought into the exam room to remind pupils of their candidate number. No other cards or documents are permitted in the room. The card should not be used to record any other piece of information.
Also issued was a printout from the school's Management Information System for pupils to check details such as the name to be printed on exam certificates, date of birth, home address, and the subjects and levels they are currently being presented for. Any change of address before results certificates are posted must be communicated in writing to the school office by Monday 26 June.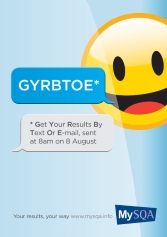 The GYRBTOE booklet explains how pupils can sign up for SQA Results Service, where their results will be sent electronically via SMS or e-mail, anywhere in the world, at 8.00 AM on the day the results come out.
Pupils are required to sign up via www.mysqa.info by 18 July with a valid e-mail address and must activate their account no later than 20 July in order to receive their results electronically. Certificates will still be sent through the post.