On Wednesday 15th of November, Bridge of Don Academy was awarded the Fairtrade EcoCity Award for promoting sustainability during Fairtrade fortnight. The group have been involved in visiting primary schools to teach pupils about the importance of Fairtrade and the Rights of the Child. They also held Fairtrade snack stalls for both staff and pupils. They then used the money they had raised during this to donate to Cornerstone.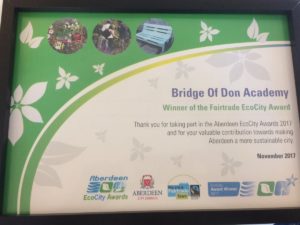 As a finale to their Fairtrade fortnight events, the group organised a Fairtrade football event which included a staff v pupils match. They also held a debate attended by the MDEC, Bala Sport, KoolSkools and local representatives from Aberdeen Fairtrade.
As part of winning the award, the group won £100 worth of vouchers. They plan to use these to further promote Fairtrade within the school and local community. This week they will have a Fairtrade stall at the Christmas fayre.
A big congratulations to all those involved!