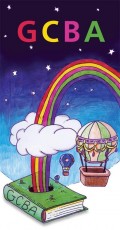 The shortlist for the Grampian Children's Book Award has just been announced.  Voting takes place in March and the winner will be  announced at a ceremony to be held on 10th May 2017.
Clammer, James              Why I went back
Aidan needs his bike to deliver all the mail his postman dad's been hoarding since his mum was sectioned. But his bike's just been stolen. In the early morning, Aidan chases after the thieves, hellbent on getting it back. When he reaches the abandoned factory where they've stashed his bike, he has moments to grab it and escape. But he finds more than just stolen goods. There's a mysterious prisoner chained to the floor…..This is the story of why Aidan goes back
 Crossan, Sarah                  One
Grace and Tippi don't like being stared and sneered at, but they're used to it. They're conjoined twins – united in blood and bone. What they want is to be looked at in turn, like they truly are two people. They want real friends. And what about love? But a heart-wrenching decision lies ahead for Tippi and Grace. One that could change their lives more than they ever asked for…
Gibbons, Alan                   End game
There are not many things Nick Mallory knows for sure. He knows there was a car crash. He knows he is in hospital. And he knows he feels furious with his father. What he doesn't know is why. As his memories start to return, Nick finds himself caught in a net of secrets and lies – where truth and perception collide and heroes and villains are not easy to tell apart.
Skuse, C J                            Monster
At sixteen Nash thought that the fight to become Head Girl of prestigious boarding school Bathory would be the biggest battle she'd face. Until her brother's disappearance leads to Nash being trapped at the school over Christmas with Bathory's assorted misfits. As a blizzard rages outside, strange things are afoot in the school's hallways, and legends of the mysterious Beast of Bathory – a big cat rumoured to room the moors outside the school – run wild. Yet when the girls' Matron goes missing it's clear that something altogether darker is to blame – and that they'll have to stick together if they hope to survive. 
Welford, Ross                   Time travelling with a hamster
"My dad died twice. Once when he was thirty nine and again four years later when he was twelve."On Al Chaudhury's twelfth birthday his beloved Grandpa Byron gives him a letter from Al's late father. In it Al receives a mission: travel back to 1984 in a secret time machine and save his father's life.Al soon discovers that time travel requires daring and imagination. It also requires lies, theft, setting his school on fire
Williamson, Lisa                              The art of being normal
Two boys. Two secrets. David Piper has always been an outsider. His parents think he's gay. The school bully thinks he's a freak. Only his two best friends know the real truth – David wants to be a girl. On the first day at his new school Leo Denton has one goal – to be invisible. Attracting the attention of the most beautiful girl in year 11 is definitely not part of that plan. When Leo stands up for David in a fight, an unlikely friendship forms. But things are about to get messy. Because at Eden Park School secrets have a funny habit of not staying secret for long …